By Philippa Kiraly, Special to The Sybaritic Singer
Three superb opera singers, two concerts in two days. Wow! Seattle's Benaroya Hall stage heard bass Eric Owens and tenor Lawrence Brownlee on the afternoon of February 17, and the following night it was mezzo-soprano Joyce DiDonato. Pianist Craig Terry played for both performances and applied his arranging talents on both occasions also. Terry alone accompanied Owens and Brownlee, but DiDonato's concert included a jazz ensemble as well, consisting of Chuck Israel, double bass; Jimmy Madison, percussion; Charlie Porter, trumpet and Lautaro Greco, bandoneon.
Neither concert comprised only opera. Owens and Brownlee sang arias and duets from familiar operas in the first half, sensitively accompanied by Terry using a piano reduction of the score, and devoted the second half to spirituals, gospel and popular songs, the last group of which were all arranged by him. DiDonato mixed arias with pop songs, and almost never used a straight opera piano reduction for accompaniment. Terry had created jazz-inflected arrangements for these, and while DiDonato sang the arias straight, the accompaniments wound around her with unexpected harmonies and riffs taking off from one or another performer.
It was a pleasure to hear all three singers. Owens has not been here that often, and his rich, deep voice and expressive sensitivity suited all the types of music performed equally well. Brownlee received huge applause when he came on stage. He is regarded here as one of ours, having begun his meteoric career rise in the Seattle Opera Young Artists Program. He spoke just after intermission, saying he felt he had come home, that his musical career had really begun here, thanks to the encouragement and support he had received from the Young Artists staff and Seattle Opera's then general director Speight Jenkins.
His own talent has taken him far since then, and on his returns the increased emotional depth and nuances of his singing have become clearer each time.
In this performance he sang what to some has become his signature aria: "Ah, mes amis," from Donizetti's La fille du regiment, with its numerous high Cs. Hearing Brownlee singing it, the Cs sounded completely effortless, just as though they were just normally easy high notes, but for nearly every other tenor, they are a stretch.
Taking turns, he and Owens sang Verdi. Mozart, Bizet and more Donizetti. One the most delightful was the semi-acted duet between naive peasant Nemorino (Brownlee) and snake oil salesman Dulcamara (Owens), made all the more amusing by the size difference between the tall, burly Owens and the diminutive Brownlee. But the two also sang the exquisite and famous duet "Au fond de temple" from Bizet's Les pecheurs de perles. While most of the arias were about love, Owens also sang "Le veau d'or" from Gounod's Faust, a somber contrast.
For the second half, both turned to the spirituals and gospel of their heritage. Brownlee's "All Night, All Day" and Owens' "Deep River" were particularly moving, while of the pop songs, "Dolores" with both singers, was extremely funny! They ended with a rousing "Every Time I Feel the Spirit" and for encore, together, "This Little Light of Mine," with Brownlee ending on a very soft, very high note.
The way the concert was put together worked. The words of the opera arias were printed so people could follow along as they wished, which made it more enjoyable for those for whom the arias were not familiar.
DiDonato's concert was most memorable for her voice, the way she used it, the flawless technique and pitch, the sensitivity, the beautifully executed ornaments, the pure tone and the artful way she used vibrato as an ornament rather than as a ubiquitous presence. That was sheer pleasure. She had a microphone but it seemed she used it more to chat to the audience at times, and it did not sound as though her voice was amplified, or if it was it was discreet.
Many of the arias she sang came from a book named The 24 Italian Art Songs, used by many teachers in training singers for whom this was a trip down memory lane. A few were familiar, such as Giordani's "Caro mio ben," but many not, and it was a pity that notes, words and opera title were not given, nor any introduction so that audience members could understand what was being sung. She would begin each aria with conventional accompaniment but then, while she continued as the music was composed, the accompaniment would veer off into completely unexpected fields. Each musician performed great riffs, but for those who like their opera unadulterated the whole could be disconcerting, while others enjoyed it very much.
The pop songs fared better, from Duke Ellington's "Solitude," to George Shearing's "Lullaby of Birdland" and ending with Richard Rodgers' "With a Song in my Heart." DiDonato changed the timbre of her voice slightly for these, creating a slightly more hooded sound further back in her throat; and her singing style, shading up to a note some of the time. A fascinating barely noticeable difference.
Her encores were a work by Vivaldi, beautiful, fast with obbligato trumpet, then all of a sudden jazzy, and then "La Vie en Rose," ending very softly and very high.
---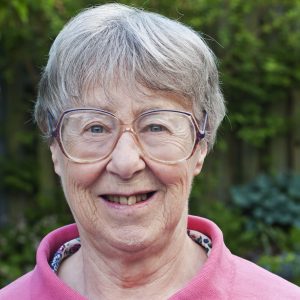 Philippa Kiraly has writing classical music criticism since 1980, for several newspapers in northern Ohio and Seattle, magazines, both local and national, and blogs. She is passionate about the importance of independent criticism for the fine arts, an art in itself which is dying with little interest by many publications and no longer a viable career for most. But writing for tickets is always worthwhile! Pippa is a keen gardener, a keen grandparent, and can get lost in a good book.