"What a lovely way to celebrate St Valentine, wouldn't you say?" our diva heard a perky voice say over her right shoulder. "Huh? Oh, yeah, being at the mechanic sure is fun…" she tried to reply in the same jovial manner but couldn't quite the tone right. It came out stilted. The face looked back at her with a quizzical half smile and half frown. Our diva wondered how she could contort the corners of her lips like that. She started trying it and then realized that the woman was still looking at her and she immediately stopped.
Our diva looked down at her ballet flats and checked her watch hoping that the woman would just look away. She started wondering, "why is this woman talking to me right now in the lobby of this mechanic's shop? What does she want?" Remembering her masterclass in schmoozing from her cousin, she made a 180 in her mind and thought, "oh my gosh, this is it. I'm connecting with strangers!" She didn't know why this suddenly made her excited instead of the usual petrification she used to feel. She caught the woman's gaze just as she was turning away from what must have seemed like a very peculiar girl in that particular moment.
The Day 14 challenge on your journey is to position yourself for artist management.
"Yeah, I really wanted to treat myself to something special today. So, I thought, 'new brakes. Doesn't that just scream romance?'" The woman laughed and they chit-chatted back and forth for a minute about cars and the woes of car troubles and made jokes comparing their constancy to men. Our diva was thoroughly enjoying herself. This woman was a riot. "Honey, what do you do?" asked the merry woman. "Oh, umm, I'm an opera singer." she replied with a slight uptick in intonation at the end. There was always a little hitch in that response no matter how many times she practiced it. She just couldn't get it to even out. It either felt like she didn't believe it herself or icky because it sounded like she was looking for validation on her interesting career. "I knew it!" cried the woman bringing our diva back to the here and now. Her eyes widened in panic. Unbeknownst to herself, our diva made that exact same half smile and half frown she had seen earlier. "I can always spot a singer," said the woman, "well, I mean, it's not really that hard… You all have a look. But, I thought to myself, 'she must be a singer.'" The woman had placed her elegant hands in air quotes for the "look" part.
Our diva tried to regain some composure. "Oh?" she said apprehensively. The woman went on, "Yes, honey." She lowered her voice as though this was the boring part,  "I'm a manager at Maribeth London & Associates in New York." Our diva's stomach took a loop and she smiled meekly as a pain shot clear through to her collarbones. "I always come visit my mother here at the beginning of February. I get her car fixed every time. These guys here at the shop are just wonderful. You know, I don't think she's driven that car in eight years, but I know that it's there and in good condition if it needs to be." They kept chatting on about family and the area talking about which restaurant used to be where and when high schoolers used to sneak out and smoke on a set of trails nearby.
The Artist Management Fairy Tales
Our diva couldn't tell if her social intelligence was getting better or if this affable manager was just bored on vacation and ready to chat with someone. Meeting a manager? Wow, this was unexpected. She had always thought that if you practice really hard and win big competitions a manager would just magically show up in your life. She somewhat knew that was a fable, but it was hard not to believe in it. Having a manager seemed like some sort of holy grail. Once you had management, then your career would take off like a rocket. Someone would be there to handle every single business element and you could finally have the luxury to just practice and perform.
Our cheerful manager had quickly sized up our diva in a few benign questions peppered throughout the earlier small talk. Like she said, she could spot a singer a mile away in a San Francisco fog. Squeezing in a "That's great! Was that part of more concerts or productions you sang in last season?" and a "Oh? Did you all get a review for that?", she could start to decipher the total fees our diva was bringing in from singing just based on where she was performing. She had an open spot on her roster for the right emerging artist, but she wasn't entertaining our diva for that position at the moment. However, she liked being able to give young singers some insight into the field from time to time. She felt like it was her mitzvah. And, she kind of hoped that it would mean less elaborately prepared, distressfully unsolicited promotional packets landing on her desk that would go completely unread and unheard.
When Are You Ready for Artist Management?
"Well, honey, you must have some questions," coaxed our cheerful manager. Our diva felt that pain in her stomach burning brighter. Of course she had questions. But, she never thought about the fact that she'd be meeting a New York-based artist manager while getting her brakes fixed. She mentally flogged herself for not thinking of more questions before something like this happened. "Umm, well yeah, is it dumb to ask 'when do you know you're ready for artist management?'"
The cheerful manager laughed heartily. "Not dumb. That's exactly the right question to ask yourself. That's where everybody starts. First, you have to ask, 'Do I have anything to manage?' I, personally, don't have the time or energy to build anyone's career from the ground up. I am always on the look-out for artists who have the basic idea of self-managing their career down and are in the right position to scale their business. Does that make sense what I'm saying, honey?'" Our diva nodded with wrapt attention. Going on, the cheerful manager said, "Well, there's always competitions. Sometimes I find some great singers there. Our firm will take on a few singers from competitions for a one to two year trial basis."
What's Your Booking Potential?
"What determines if they stay after the trial basis?" our diva questioned.
"Well, I tend to look at a lot of clear metrics from sources like venues, companies, and audiences. What types of venues are they performing in? What kind of booking potential are they demonstrating? Are they getting fees that determine whether or not they're ready for management. You know that managers typically take 20 percent of gross concert fees that we negotiate. So, there needs to be a threshold of financial responsibility there. I mean, you could work with people who work on retainer, but I wouldn't suggest you go around paying $500+ per month when you could just practice booking your own gigs or creating your own opportunities.
Furthermore I ask, 'Does this artist seem to be gaining steam or just taking up space?' But really, I can see some of that before they're on the roster. Do they have good promotional materials? Let me tell you, a good bio, headshot, video documentation, website, social media, programs, repertoire, and technical riders and the whole kit and caboodle can tell me practically everything I need to know in a matter of seconds."
"Wow, really?"
"Yep. Well, I've been doing this for a long time."
"Oh? How long?"
"Ha!" our cheerful manager's laughter shimmered in the air, "that's adorable."
Our diva realized that she might have just committed a faux pas and rapidly tried to move to a different line of questioning, "how do you know when a singer has booking potential?"
"Fantastic question, honey. Well, I love finding artists who know who they are without being rigid about it. It always feels a bit like hunting for a needle in a haystack. But, when you find it, it's worth it. My roster artists know how to portray themselves and they know what makes them unique. They were able to turn that knowledge into booking their own gigs before we started working together. My artists know what people remember most about them on stage and exploit that in the way that they approach all parts of their careers. Well, and of course, the voice. You gotta have the voice."
"Like really good technique?" asked our diva somehow realizing that wasn't all it. She also could feel a little bell going off in her subconscious about building artistic integrity. It's funny how those ideas just keep showing up everywhere when they're getting mulled over in your mind.
"Well, yes and no. It's more than that. It's being able to know what's special about your voice. What does your voice like to do? What do other people like in your voice? Ya know, you just gotta have the goods."
A Thank You Note
They went on chatting that way until the shop owner called the cheerful manager up to the counter. "Oh Barry," she exclaimed. "You really are just a prince! Thank you for taking such good care of my mother's vehicle." Barry gave a little oh shucks wave of the hand. Our diva was enamored with these people she kept meeting that seemed to have other people in the palm of their hands. While she was talking to the cheerful manager, she had felt like the only person in the room. It really was incredible. The woman was back in front of our diva with her hand outstretched, "well honey, it was such a pleasure to meet you. Good luck with all that you're doing." With that and the clink of the bell against the glass front door, she was off. Our diva didn't even think to exchange cards or even email addresses with her. Somehow she felt like that might not have been appropriate. She wrote down the cheerful manager's name in her phone notes. When she got home after her car was finished, she looked up the woman's agency and wrote a quick thank you note and dropped it in the mail. It didn't matter to our diva whether or not it seemed too forward. That cheerful manager had given her a powerful sermon on management and she was grateful.
---
29 Days to Diva: The Worksheets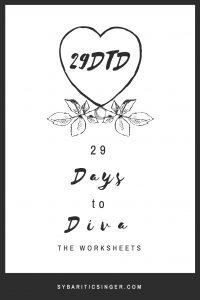 Want some help completing your Day 14 challenge? 29 Days to Diva is all about tackling the big issues of our careers through micro-actions. Positioning yourself for artist management is all about getting your micro-actions in order. Here is a worksheet to help you get a little clearer on what micro-actions you might need along your path.
Hey divas! I could really use your help. If you liked today's post or any of the 29 Days to Diva posts so far in this series, will you please share it on your favorite social media channels? It would really help me out. Thanks! You can find me @mezzoihnen or feel free to use the hashtag #29DTD or #29DaystoDiva.