Review by Katie Heilman special to The Sybaritic Singer 
Photo Credit: Cory Weaver
The stark contrast between opposing forces is woven throughout Jules Massenet's Thaïs, both in the plot and the music itself, and Minnesota Opera's production at the Ordway does an excellent job of portraying that. It is a classic tale of a holy man trying to convert a courtesan to becoming a nun, but in the end, the holy man has succumbed to lust while the courtesan has shown her innocence and purity. Thaïs explores sacred versus worldly, lust versus innocent love, and extravagance versus humble living.
Minnesota Opera's sets are always impressive, and Scenic and Costume Designer Lorenzo Cutùli's work is no exception. The abbey and cloister are both set in dark, almost ominous tones: bare stone walls, low light, and a very active fog machine. Athanaël, played by Lucas Meachem, is mostly dressed in a plain, dark robe, even more visually intimidating when combined with his height. This contrasts well with the scenes in Alexandria, which are brightly-lit and shimmering with gold. The citizens of Alexandria are also all decorated in gold, and the whole stage shimmers during the party scenes. While a small complaint, the rose petals falling from the ceiling in several scenes became a bit overdone after their introduction during the first party scene, although perhaps that is because of the use of rose petals in "cheesy" romantic scenes in today's pop culture.
Minnesota native Kelly Kaduce and Meachem are both brilliant as the leads. Kaduce ensnares you from the moment she enters the stage at Nicias' party to the final scene of the show. She flawlessly transitions from flirtatious, graceful courtesan to innocent, penitent nun, both in her physical movement and her singing. The role of Thaïs is notoriously difficult to sing, and Kaduce made it look and sound easy. Meachem's commanding baritone soars over the orchestra. He portrays the stoicism and tough love of Athanaël so well, yet when Athanaël is consumed by his lust for Thaïs, Meachem transforms into an angst-ridden man and his  final line, "Dead!" breaks the heart.
The famous "Meditation" melody will tug at the heartstrings, and concertmaster Allison Ostrander's violin soars over the rest of the orchestra while Kaduce lays on the floor and Zenon Dance Company moves through a beautifully-choreographed sequence from behind the ethereal scrim.
Zenon Dance Company is absolutely the highlight of this production. Whether dancing individually to celebrate Nicias' gambling winnings or combining their movements and bodies to form various shapes (like an impressive crucifix during the Meditation), they added so much to the different moods of the plot. Minnesota Opera has found an excellent partnership in Zenon Dance Company that would serve both organizations well into the future.
Overall, this is a well-done production. The opera itself has very little plot, but it is visually stunning and expertly performed. The combination of the strong musicianship and choreography make this production a beautiful jewel among Minnesota Opera's 2017-18 season.
---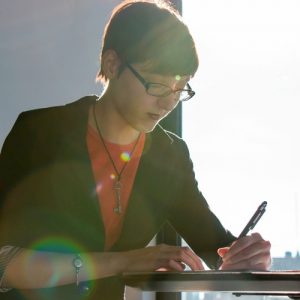 Katie is a composer, oboist, and beginner mandolinist based in Minneapolis, Minnesota. Katie currently works as the Program Assistant for Greater Twin Cities Youth Symphonies. She has a passion for using social media in the arts, as well as working behind the scenes to help the next generation of musicians.
Katie is a fierce advocate for supporting local arts. You can usually find her attending a chamber music concert or theater show on any given weekend, and she has been a member of the Schubert Club's arts ambassador group Theoroi since 2015. She is also involved in local new music society Punk-Ass Classical.
You can find Katie on Facebook, Soundcloud, Twitter, and Instagram.