The cursing under her breath was creating hot little puffs of angry steam in front of our diva's face. Disappointed in the rate of speed at which her feet were moving, she shuffled faster and stumbled when as she caught an uneven brick in the sidewalk. She looked back at it and the sidewalk practically sneered back with a craggy grin, "serves you right for being late." Our diva cleared her voice and continued on to the door at Hail House.
She hadn't been to this venue before, but she had heard about it many time from some of her experimental music friends. Red lights? European boys smoking cigarettes in the hallway near the poorly lit bathrooms? She didn't know what to expect. It was all new to her. She no quicker saw her professor than she heard a sound that stopped her dead in her tracks.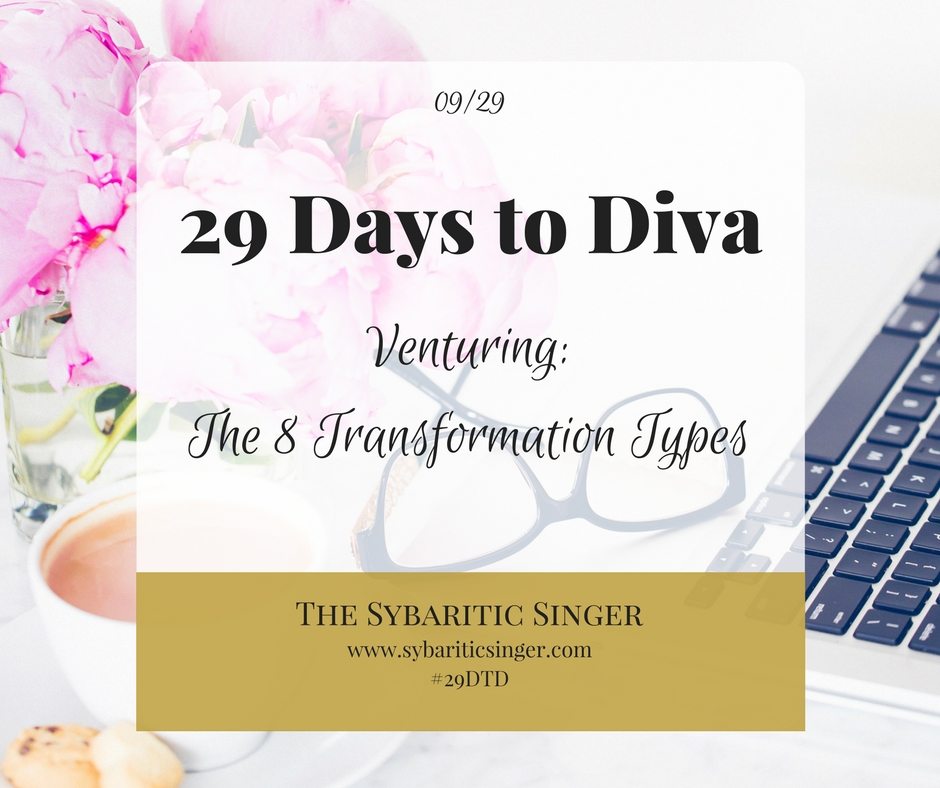 The Day 9 challenge on your journey is to apply entrepreneurship transformation types to your singing career.
It was beautiful. It was crazy beautiful. She hadn't heard anything like it before. Her attention swung curiously to the sound emanating from the shag carpeted stage directly across the rectangular room from the bar. It was clearly a Pierrot ensemble but, "also electronics?" she thought to herself. "Where is this sound coming from? What is this sound coming from?" She looked around still a bit bewildered. Her professor politely touched her shoulder and gestured for her to sit down with him and a handful of other people she had never met before. "Oh, great." she thought with apprehension. But, remembering the her newly discovered schmoozing skills, she reframed as best she could, "Oh great!" Even in her mind it sounded a little forced but she was determined to have a good time.
As though it were Daylight Saving Time, she looked at her phone and felt like she had lost an hour or time-warped or something quite strange. Forgotten was everything that happened before she started hearing this sound; no more being late, no more tripping on the sidewalk, no more crappy winter weather. She was captivated by this ensemble. She couldn't seem to rip her eyes or ears away from it. They looked so stylized and thoughtfully choreographed, but cool. They played their instruments so effortlessly. They were telling this incredible musical story in this random bar and performance space that could have been on a concert hall stage but somehow seemed more effective here. Our diva was mesmerized. She needed this in her life. She needed this in her performing life immediately. Our diva did not want to make the same music. It wasn't that. It was how they were making the music and what they were saying with it. They had what she wanted: artistic integrity.
Venturing: The 8 Transformation Types
"This is so awesome," she leaned over and hollered to her professor over the sound. "I thought you might like it," he answered back. In the second hour of the show, our diva's mind was off and running. Something from her research that day jumped back into her thinking. It was this transformational concepts of venturing from a book titled Effectual Entrepreneurship. Venturing sets up an uncertain business situation. Then, you practice applying different transformation types to the situation. It's really a practice in decision-making strategies to turn situations into opportunities. She ticked through the transformation types as she could remember them:
"Deleting/supplementing

Adding and/or subtracting to something existing.

Composing/decomposing

Reorganizing material that is already there; decomposing and recomposing it.

Exaptation

Transforming existing artifacts by converting them to new uses.

Re-weighting

Increasing and decreasing or re-ordering relative emphasis of features of a product or market.

Manipulation

Inverting, mirroring, twisting, turning an idea or artifact inside out.

Deformation

Deliberately deforming the original idea or concept; analogous to melody deformation in jazz.

Localization/regionalization/globalization

Changing the scope of the market by proposing smaller or larger markets

Ad hoc associating

Drawing on prior experience and memory, by associating the current venture with some previous problem or opportunity."
Irrelevant ideas become new opportunities
It made so much sense to her now as she was beginning to mull it over more thoroughly. She needed to decompose what she already had. She had her background in music. She had a special skill in voice. She needed to think about other basic elements that made up her unique understanding of the world. She started realizing that maybe her volunteering might make a really interesting connection. She had volunteered years ago, before the crush of grad school got so intense, for a hospital in the behavioral health area at the hospital less than a mile away. She spent time with students that were in their inpatient program to use art activities to help them in their healing process. She wondered why it had been so long since she'd gone back. Coming back a bit to the moment, she started thinking that she could start putting ideas and programs together that had to do with some of the work that she had been doing while volunteering. She was still passionate about mental health but hadn't yet found a way to reconcile her art making with some of her other interests.
As she let the music continue washing over her, she challenged herself to think about what she thought of as her most valuable ideas and what were the most irrelevant. She turned the exercise around and envisioned what it would be like if the irrelevant ones suddenly became the basis for the project. She got a little nervous. She thought about how it felt like she was starting all over. But, she could tell that there was excitement in there too. She wondered if she'd even be able to find audiences for projects like that. "How would I even find audiences that wanted to participate in music making built around the concept of mental health?" she asked herself. She wouldn't let herself off the hook just yet, "how would I talk about these projects to other people who might actually value these ideas?"
A chance meeting
Her professor had just come back to the table with after refreshing his beverage. "You've been pretty quiet," he said, "I hope the music didn't scare you."
"Oh no! Quite the opposite! It's given me so much to think about!" she exclaimed.
"Well, it did its job then, I suppose," he replied. "If you're ready, I'd love to introduce you to my friend. He's right up there."
Our diva looked at her drink and realized that she was dealing with a saharan situation. She looked back up, held her drink near her face, and dropped the corners of her mouth into a pathetic pout. Her professor looked at her and laughed, "okay, okay, take care of that and I'll meet you over there." He snaked his way to the side of the stage near the stairs where his friend was standing in an imposing group of hipster guys. Our diva sighed and bobbed over to the bar.
"What can I get you?" asked the bartender a little too quietly for the current situation in the room.
"Uhhh, gin and tonic, please."
"Hey, do I know you?" he asked almost accusingly.
"Umm, I don't think so. I've never been here before."
"No, yeah, you were. Like a while ago. Two years? It was called Baskervilles then. With, uh, your brunette friend. With the curls."
"Oh god, of course, my cousin!"
"Sure, yeah, your cousin. Anyway. Didn't she tell me that you're a musician?"
"Um, maybe I don't know."
"Well, what do you do?"
"I sing."
"Right on. Sing with anybody that plays here?"
"I don't think so."
"What kind of stuff you sing?"
In some wild moment of courage our diva blurted out, "I've recently been putting together an interactive performance that focuses on mental health for artists."
"Wow, sounds cool. Maybe we could host it here."
"Huh, sure. Okay, let me know when the boss goes for that." she said flippantly.
"Well, he says 'yes' since I am the boss." he answered coolly. He slid her a piece of receipt paper with his email address written on it.
The blood rushed to our diva's face. She tried to calm herself and keep it chill while she plunked down her cash for the drink. She held up the receipt paper and said she was "on it." The bartender just smiled at her. With renewed confidence our diva bounded off to approach the imposing circle of hipsters.
---
29 Days to Diva: The Worksheets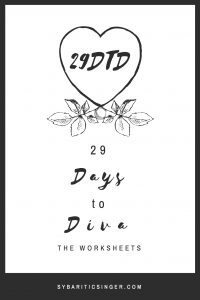 Want some help completing your Day 9 challenge? These challenges are getting more involved all the time. Here's a worksheet that lists the 8 Transformation Types again. You'll do some journaling, brainstorming, and pitching! I hope you're ready to werk divas.
Try it out! If you like it, I hope you'll sign up for the email list in the box below and share this post on your favorite social media channels. You can find me @mezzoihnen or feel free to use the hashtag #29DTD or #29DaystoDiva.